The Hoedown Band - Hoedown party, Wedding party, Barn Dance Band - Staffordshire & Cheshire.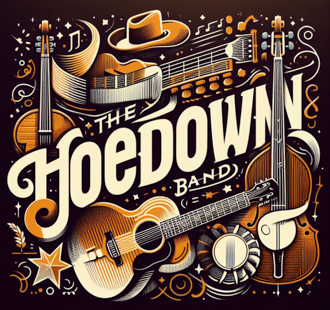 "An exciting blend of traditional folk tunes and Americana"
With combined experience totally many decades, the Hoedownband musicians are well suited to make your themed party or event everything you hope for. They have all played in various barn dance bands for many years.
With so much experience naturally, the band members are multi-talented. Guitar, banjo, mandolin, fiddle, bass, harmony vocals and even the occasional bit of penny whistle provide all the variety you need to make your hoedown or barn dance a success.
But that's not all. With our highly experienced barn dance caller to guide you through every step, The Hoedown Band is the perfect barn dance band for any hoedown, barn dance, hog roast, corporate event, Wild West party or wedding.
The Hoedown Band is based in North Staffordshire, England.
Enquiries: 07985 425932, email enquiries@

grass

hoedownband.co.uk

(Cut the grass to email)

or for a quotation please use our contact form.
Barn Dances for Weddings, Parties and Fund Raising Events
We have a full performance repertoire but and also an extensive list of dance tunes so why not book The Hoedown Band as a barn dance band for your Wild West Birthday Party or themed Wedding Reception? Everyone loves a hoedown so bring in the straw bales, deck the tables with gingham and put on your jeans and cowboy hat and prepare for a rootin', tootin' good time! Our expert barn dance callers will make sure that even the most hopeless novice will enjoy the party dancing as much as the expert. Our barn dances are ideal for weddings, parties, birthday celebrations, hog roasts etc etc. They are also excellent for raising money for charity and worthy causes. We've compiled a list of tips and ideas to help you raise the most money for your cause or charity.